Project Work Scheduling
Project Work Scheduling is Simplified with Tools for Reviewing Resource Availability and Establishing a Work Breakdown Structure.
TrackerSuite.Net provides several tools that Professional Service organizations can utilize in scheduling project work, tools which facilitate resource availability review and assignment, as well as the planning and assignment of tasks within the project's Work Breakdown Structure.
Simplifying Resource Availability Review and Tracking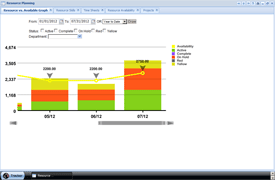 The Project Resource vs. Available widget provides an at-a-glance review of workloads
From the Tracker desktop, managers can leverage a Project Resources Available widget for an at-a-glance review of organizational workloads as a bar chart. This interactive widget allows users to easily adjust the timeline as well as the resources profiled (by position) in this report.
For more in-depth information, the Resource Availability view provided by Project Tracker.Net provides a grid of resources, filterable by manager or department, within the organization and their scheduled work. For more information about individual assignments, the user can click on the hours of the resource in question to drill down into that resource's assigned work for the period.
Planning Project Work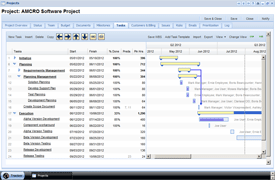 The Work Breakdown Structure view includes an interactive Gantt chart
Project Tracker.Net offers a flexible project planning environment, including an interactive Gantt Chart in which users can drag-and-drop workloads, link tasks and set dependencies, and update task assignees and status with in-line editing.