Invoice Professional Services
Invoice Professional Services with Integrated Solutions for Time and Billing, Invoicing, Project Management and CRM.
TrackerSuite.Net simplifies the invoicing process for Professional Services organizations with Invoice Tracker.Net, which simplifies invoice generation, approval management, status tracking and reporting,
Simplify Invoicing with Integrated Projects, Time and Billing with CRM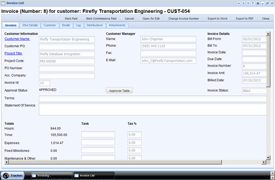 Automatically generate invoices based on time sheets, expense reports and billing milestones
Invoice Tracker.Net integrates with modules for Project Management, CRM, Time and Expense Reporting. This integration allows users to quickly generate invoices for customer projects, automatically calculating aggregated time and billing by tasks, or from fixed billing milestones established within the project. Invoice Tracker.Net also provides features for managing employee commissions.
Streamline Management with Automated Approvals and Status Tracking
Invoice Tracker.Net provides tools for the automated approval routing of invoices, as invoice forecasting features that shows invoices due, overdue and those fixed billing milestones ahead in the future.