Professional Services Project Management
Professional Services Project Management Software Simplifies Project Execution and Tracking.
As well as providing functions for project work scheduling, TrackerSuite.Net helps Professional Services organizations execute projects efficiently and effectively with tools that automate management and streamline routine processes, as well as providing views and reports that project managers and executives can utilize to track project status and progress.
Tracking Progress with Dashboards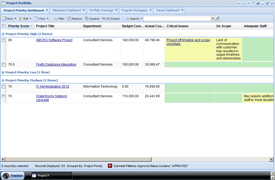 Configurable project dashboards simplify project portfolio management and tracking
TrackerSuite.Net provides an array of colorful dashboards for at-a-glance views of the progress and status of projects and tasks. These dashboard views are highly configurable, users can add and remove columns, filter and sort values. These views can be exported as PDF reports, Excel spreadsheets, or even embedded in emails for on-the-fly electronic newsletters.
Simplifying Document Management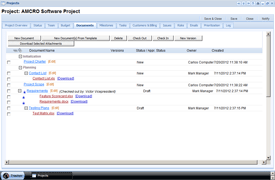 A central, online document repository with check-in/check-out and version control
TrackerSuite.Net provides a secure, central online location for project documents and files. Access to project files can be limited to project teams, as well as by role. TrackerSuite.Net also provides functions for document check-out/check-in, as well as version control.
Automating Communication and Management
TrackerSuite.Net leverages email to send automated notifications of task assignments and schedule changes, as well as reminders for status reports that keep project leaders and their teams on the same page.